We Strive To Exceed Our Customers Expectations!
Three Generations of Service
SJ Denham was founded in the 1930s by SJ "Stoney" Denham in Redding, California. The business was originally started as a gas station and repair shop in downtown Redding, CA. Stoney returned from Fort Lewis, Washington after World War II, and with assistance from family, he built a DeSoto and Plymouth dealership on North Market Street that included sales, service, parts and a body shop. The grand opening of SJ Denham DeSoto Plymouth was in 1945. Over the years, through much hard work and a strong commitment to taking care of customers, the business grew.
In the 1970s, SJ Denham's son, Randy, joined the family business after graduating college. Since then, SJ Denham Chrysler Jeep Fiat has sought to become more than a dealership that provided sales, service and parts. Instead, SJ Denham aspired to become a full service, one stop automotive center.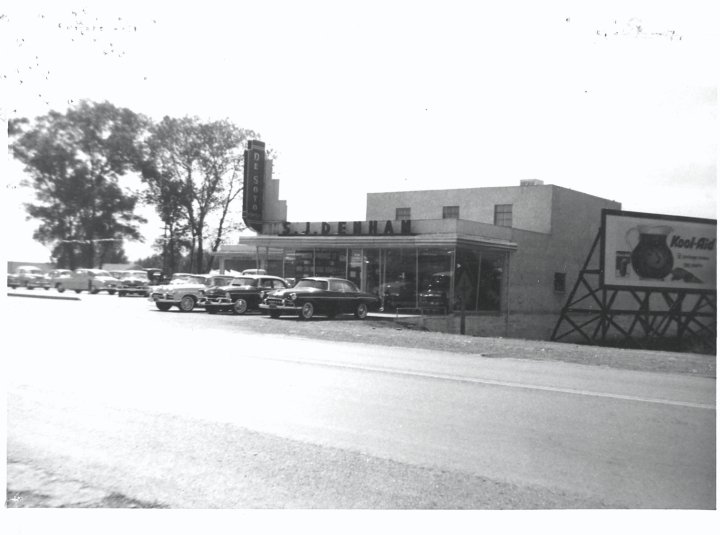 During this time SJ Denham added the ability to rent a car, through the acquisition of the Hertz Rent-a-Car Franchise in Redding, and the ability to repair vehicles damaged in collisions with the establishment of the SJ Denham Collision Repair Center, located just across the street from the dealership on North Market Street in Redding.
In 2001 SJ Denham's grandson, Ryan, joined the business after graduating college and working with Chrysler Corporation. Since 2001, SJ Denham has expanded to a second location, SJ Denham Chrysler Jeep Dodge Ram in Mount Shasta, California and began fulfilling the tire needs of customers with its dedicated tire center for all makes and models of vehicles.
Today SJ Denham is a third generation, family owned and operated one stop automotive center providing Chrysler, Jeep, Fiat, Ram, and Dodge vehicles, service and tires for all makes and models, Mopar Parts, a full service collision repair center and two Hertz rental vehicle locations.